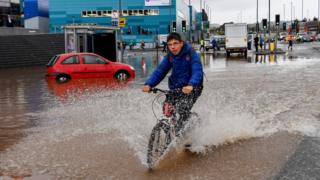 Heavy rain is causing flash flooding and travel problems on roads across England.
Five flood warnings and 40 flood alerts remain in place across much of the country by the Environment Agency.
The Met Office has a yellow rain warning covering most of the country in force until 23:00 BST.
Floods have been reported on roads in Southampton, Birmingham, Liverpool and London, where a deluge was reported at the Houses of Parliament.
Some areas saw more than 50mm of rain in less than 12 hours as wind, rain and thunder battered parts of the country.
Boscombe Down in Wiltshire had the biggest downpour, with 51.2mm falling at the military base near Amesbury in the 12 hours to 13:00 BST.
About 49.6mm (2in) of rain fell there in the six hours before 09:00, according to the Met Office.
Spokesman Grahame Madge said it was a "significant" amount of rain.
He said the band of rain was "transient" having started in the South West, before moving to the Midlands and hitting the North later in the day.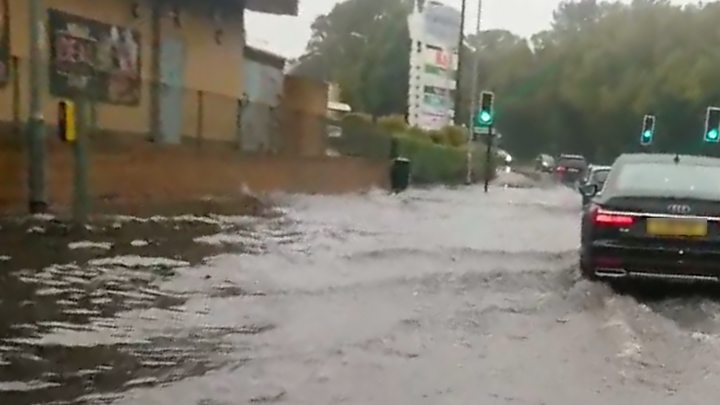 Currently, flood warnings, where flooding is expected, are still in place for:
River Maun at Edwinstowe and Ollerton in Nottinghamshire
Upper Frome from Maiden Newton to Dorchester in Dorset
Three warnings remain around Whinney Brook and Dovers Brook at Maghull in Sefton, Merseyside
Flood alerts, which indicate flooding is possible, are in place across the country, including for parts of Greater London, Derbyshire, Sheffield, Nottinghamshire and Staffordshire.
The Environment Agency said a further 14 flood warnings are no longer in place.
Wales has also been affected by the heavy rainfall, with the Met Office issuing warnings across south and north eastern areas of the country.
The weather has affected public transport, with National Rail warning of major disruption between Birmingham Snow Hill and Stourbridge earlier due to a tree blocking the line.
On the roads, delays were caused by several cars breaking down in water on Milbrook Road West in Southampton city centre, with motorists also advised to avoid Waterhouse Lane and Paynes Road.
Mersey Fire and Rescue Service reported vehicles trapped in floodwater in the Queens Drive and West Derby areas of Liverpool.
A service spokesman urged drivers to "please take extra care", adding: "Slow down, increase your distances, switch your lights on and please don't drive into floodwater."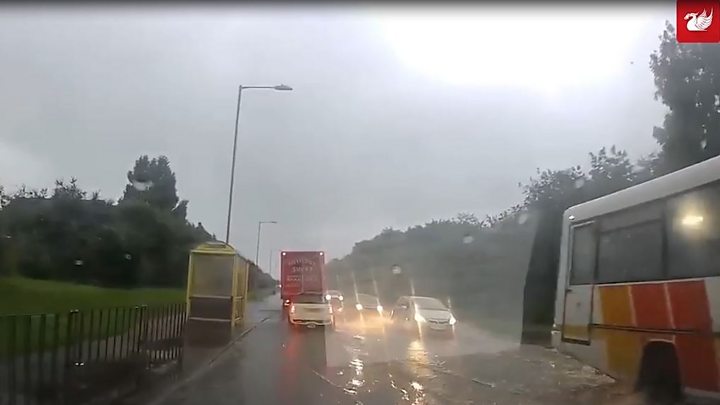 Roads have been flooded in the Longbridge area of Birmingham, with West Midlands Fire Service reporting being called to two motorists on the roof of a vehicle in a ford in Hawkesley Mill Lane, Northfield.
West Midlands crews also rescued two pensioners who had become stuck in their vehicle in flood water in Alum Rock, Birmingham.
They also had to pump water out of one of their own fire stations; in Ward End, Birmingham.
Flooding has also been reported in the Houses of Commons, with Twitter users sharing footage of a patch of water being barricaded off.
In sport, the rainfall has affected the cricket County Championship, while the fan zone for the UCI Road World Championships in Harrogate has been closed due to the rain.
The cycling action can still be seen on West Park and Parliament Street, organisers said, but the wet weather did lead to two crashes involving riders.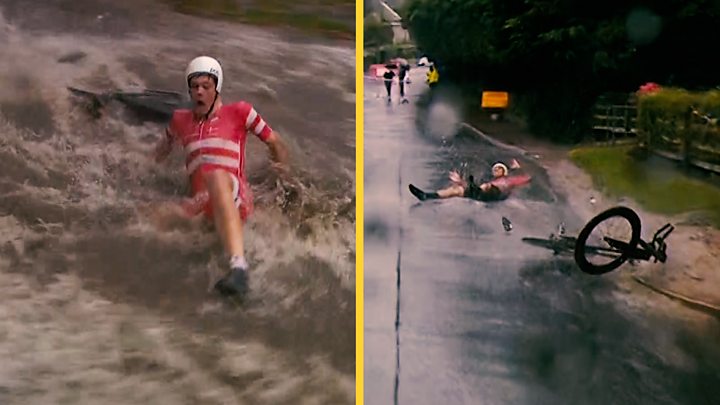 The downpours are being brought by low pressure travelling across the UK, along with warm and humid air linked to the remnants of Hurricane Humberto which hit Bermuda coastline last week.
The heavy rain is expected to clear by Wednesday, but a low-pressure front is expected to remain for the rest of the week.